Beauty & The Beast Disney Cartoon Castle Framed 5 Piece Canvas Wall Art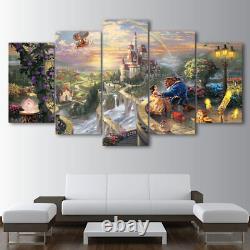 Very Easy To Mount & Arrives Ready To Hang On The Wall! Includes 5 Framed Panels, Exceptionally Designed With Love & Care! 24/7 Fast, Helpful & Friendly Customer Service & Support! This beautifully framed 5 piece vibrant canvas wall art is printed using the highest quality fade resistant ink on 100% premium cotton canvas, & finished with a UV protective coating. This is designed with canvas that comes with the utmost durability & quality, Framed & Ready To Hang; No additional hanging hardware required!
Our archival canvas contains no optical brighteners and will not yellow over time. Latex inks are superior to solvent inks when it comes to image quality, scratch resistance, and durability. Our premium latex water-based ink is Greenguard and Ecologo certified for low chemical emissions and reduced environmental impact.
Will become the centerpiece of your home and the topic of conversation among all your friends the moment you put it up! We use the advanced and most excellent canvas printing technology that makes our product eye-catching and very sturdy.
All our canvas prints are printed in HD with Rich and brilliant colors. This is a high definition canvas printing of modern artwork or pictures on high quality, water resistant canvas. We bring you the very best wall art on the market! 5 piece canvas wall art.
Is designed to impress, & we pay astounding attention to detail. Not only does it look great, but it also manages to deliver a sense of style & uniqueness to the entire area where it is displayed.
Canvas Picture Mockups represent XL size. Sizes & Dimensions: Small: (4"x6" x 2pcs, 4"x8" x 2pcs, 4"x10" x 1pc inches) 10cm x 15cm x 2pcs, 10cm x 20cm x 2pcs, 10cm x 25cm x 1pc Medium: (8"x14" x 2pcs, 8"x18" x 2pcs, 8"x22" x 1pc inches) 20cm x 35cm x 2pcs, 20cm x 45cm x 2pcs, 20cm x 55cm x 1pc Large: (12"x20" x 2pcs, 12"x28" x 2pcs, 12"x32" x 1pc inches) 30cm x 50cm x 2pcs, 30cm x 70cm x 2pcs, 30cm x 80cm x 1pc X-Large: (16"x24" x 2pcs, 16"x32" x 2pcs, 16"x40" x 1pc inches) 40cm x 60cm x 2 pcs, 40cm x 80cm x 2 pcs, 40cm x 100cm x 1pc.

---