Beauty And The Beast Rose Enchanted Disney Gift Birthday Wedding Anniversary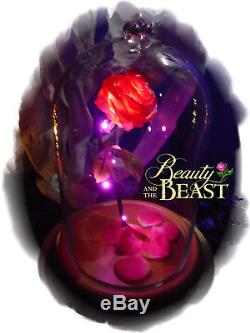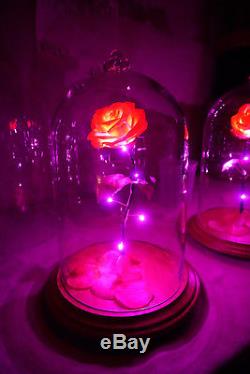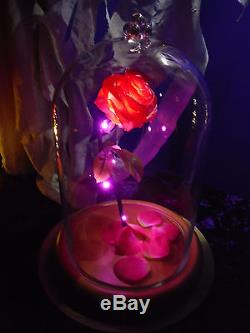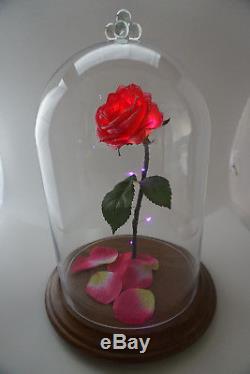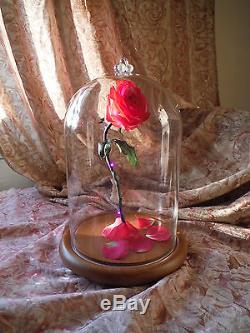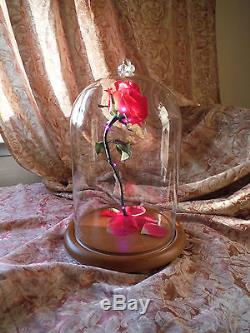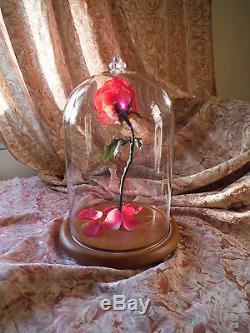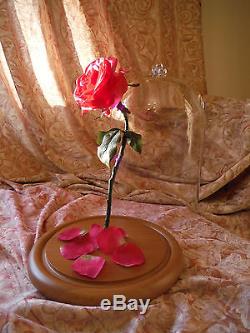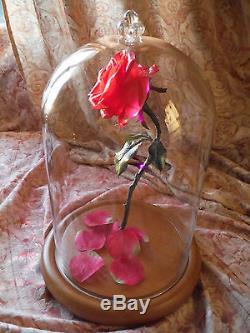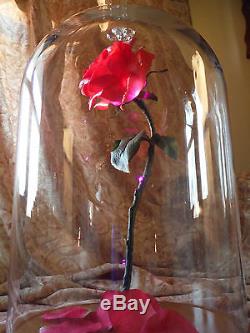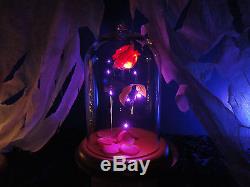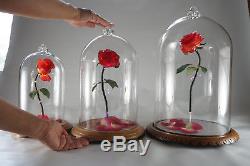 Most authentic and movie accurate Enchanted Rose available Within the Beast's curse, the Enchanted Rose is the hour glass by which his impending fate is made ever more certain and in whose blossoming and falling petals, both beauty and despair are brought forth. The Beast's Enchanted Rose is brought to life in this beautiful LIFE SIZE recreation inspired by Disney's Beauty and the Beast. From top to bottom the Enchanted Rose is beautifully hand made and captures in exacting detail, The iconic imagery from this classic all time favorite, fairy tale movie. The poly silk rose is beautifully poised, withering, with its shimmering Blossom and fallen petals. The real oak base is the perfect foundation for the removable hand blown glass dome complete with adornment on top.
The Beat s Rose truly is beautiful to look at. As Belle enters the room, what really captures her eye and captivates her attention is the glow and sparkle of a single rose and that's where the Enchanted Rose really comes to life. When the lights are low and the Rose starts to gleam with warm pink lighted accents the fairy tale experience is complete.
Yes, the Enchanted Rose really does light up. The LED lights are powered by 2 CR2032 Size batteries.
At over 14" in or 35.56 cm high and with a 10" in or 24.4 cm wide this magical rose literally is Life Size. The certificate can be personalized with your own wording making it even more special as a gift. Message me with your wording after you order and I'll have it printed for you. D on't miss out on this One of a Kind Custom piece that you wont find in any store.
Belle's LIFE SIZE Lighted Enchanted Rose from Beauty and the Beast easily becomes the centerpiece of any Disney collection. It is the PERFECT gift for any fan or collector whether for a birthday , wedding , anniversary, Props for School Plays and Theater productions or just as a treat for yourself , you wont be disappointed. Our Enchanted Roses were table centerpieces at a special Event featuring The One and Only Paige O'Hara, The Voice Of Belle in Beauty and the Beast here she is holding one. Customer Comments June/9/2017 Oh my goodness...
<3 <3 <3 I cant wait to surprise her... MAYBE I can capture the look on her face!! Lol Thank you for communicating w/ me throughout the process! " -bogie3softball7 June/5/2017 "The person i bought this for received it and is entire in love with it.. It is truly a masterpiece!! " "Thank you for making such a great gift" -lhs224-6 May/30/2017 "I just wanted to say thank you again. My wife loves it" -terrbangha_0 May/16/2017 "She loved it thanks" " I wish we could leave a picture as a feedback or comments so other people can see the product by other customers that bought it" -professortnt May/3/2017 "Super happy loved it" -nicole03010 April/21/2017 "I just received your package a lot faster then I thought thank you very much! She's going to love it thank you very much! " -antonibec-4 April/17/2017 "The item was received, thank you. I have given it to the intended party, and they really do appreciate your talents.
Thanks again, I hope you have great success with it. " -also925 April/14/2017 "We loved it. Thank you" -ciba5 Feb/15/2017 "Worked just great thank you for everything!!! " -ringleader11 Feb/15/2017 "Just so beautiful!!!!
, " "I can't wait to give this to my sister... " -bamarisa2011 Feb/14/2017 "Hi, just wanted to let you know the rose came out beautiful and my girlfriend was in awe" -lethallove Feb/6/2017 "Dear 41minda, Valentine's day came early. Item received today, well made and it's very beautiful. The person who received the gift LOVED IT!!
So I thank you for such amazing craft! I just want to thank you again for getting the enchanted rose to me for xmas! It is truly a beautiful piece and my daughter absolutely loved it! " -amarko014 December/26/2016 "Just an update. Thank you thank you thank you thank you thank you thank you.
Oh my God seriously thank you. I literally burst out crying when I opened the rose.
" A very satisfied recipient (",) Thank you! Merry Christmas from Simon" -simon220987 December/3/2016 "Hello, just thought I'd let you know that the enchanted rose arrived today in one piece! I haven't taken it apart, I only took off the dome.
The flower & base look absolutely magnificent, the base looks like real marble when viewed up close, plus I like the detailed carving of the wood. The message card is first class too. If I love the card & rose this much, I can't wait for the lucky lady to open it & love it even more than me. Absolutely stunning work all round, thank you! Will definitely recommend this to friends & followers. Please feel free to use this quote as customer feedback for your page. I got the rose today (because I live in Costa Rica) and I just wanted to let you know that I love it. It is absolutely one of the best presents ever. And the certificate makes the rose even more special.
I feel blessed for having this rose. Thanks for everything, especially, for making my birthday (today) unforgettable. " -marcasag21 June/15/2016 "I got this for my wife as an anniversary gift and she is in love with it!
It is truly a masterpiece as she said. I will leave feedback right now. Thanks again for sharing your work! " -wet_noodle_lopez June/13/2016 "Hi, : I just wanted to say thank you.
I received the rose today and it is absolutely fantastic, even better than what I expected. It is far more beautiful, inspiring and magical than I thought it would be, THANK YOU SO MUCH! The pictures truly don't do justice to your gorgeous work of art. Just looking at the rose in plain daylight made me feel like I was transported into the magical world of the movie, I can't begin to imagine how incredible it is going to look at nighttime.
You were absolutely fantastic and a delight to work with. Thank you for taking the time to accommodate my request for the base and for providing such a special product. I simply CANT WAIT to give this present because I know the lucky person who will own this rose will absolutely adore it. The packing was fantastic, the dome is perfect, the rose is flawless, and the beautiful certificate was an unexpected surprise!
I did not think it would be that big and gorgeous. " -fauno_fauno Feb/13/2016 "Hi, I have received the rose today and it is absolutely amazing. Thank you so much definitely worth the wait" -sjiggins1594 Feb/4/2016 "Hello, I received the item and it is perfect. I will leave you great feedback. " -wesleyinc Jan 20/2016 "Thank you so much my wife love the enchanted rose and was very touched by the detail of the certificated. She already put on display on our living room. " - el_ultimo_samurai Dec 28/2015 "I opened the package on 25th when I give it to my wife. She was very very happy with the rose and we are so satisfy with your work. It's an amazing enchanted rose. Thanks and regards, Marcos" - yomarcos Dec 23/2015 "I received my item a few days ago. Thank you it is lovely and as nice as expected.
It arrived in perfect condition, so thank you for wrapping it so carefully! It will sit proudly next to my other Beauty and the Beast items.
",,,, "Thanks again, and thanks for all the communication and follow up emails! Kind Regards Crystal" - crystalcakes29 Dec 22/2015 "I was surprised with how quickly I received it. The Enchanted Rose Prop is totally gorgeous.
I opened it to make sure all was fine (which it was) and I sat and stared at it all night. It is just simply beautiful. I had to reluctantly repack it for her to open at Christmas. I cannot wait to see it again.
Thank you for designing such a beautiful rose. " - jaym-pere Sep 29/2015 "It looks amazing! I can't thank you enough for your craftsmanship, kindness, and professionalism. " - jcating12 Sep 22/2015 "I have the perfect display table for it and it is absolutely beautiful!! Thank you for the great communication and for the piece.
Take care and have a blessed day! " - bambifiend21 Sep 18/2015 "The rose arrived today and its freaking awesome! Jens going to love this.
It looks great and the certificate is a very nice touch! It was also packaged very carefully, and I really appreciate that. Again, I really love the rose. Thank you, Rebecca" - beccaj55t May 5/2015 "I randomly googled enchanted rose one day and saw yours, it looks unbelievable, knew I couldn't propose without it" , "It arrived this morning.
Photo's don't do it justice, an absolute pleasure doing business with you. Thank you" - iamurp9 March 30/2015 "Got them all! Opened one and it's AMAZING!!! " - humdingerelise March 2/2015 "Hello,, The Rose is beautiful, thanks certificate in Italian, and it was a very nice present.
See you soon and thanks for everything. Best Regards, Gigi" - piercolet March 2/2015 "Hi, the rose just came today I would personally like to thank you for such a wonderful unique item, we are both Absolutely in Awe and it makes such a wonderful piece in our home thank you for your time, Tony. " - 1990tony0128 Jan 23/2015 "Just want to say thank you so much for your help with tracking and all. And when my fiancée opened her gift she literally cried.
" - worthy319 Jan 10/2015 "Hey Dennis! You made someone a very happy girl today! Thank you again so much I just don't have enough words or ways to express my thanks brother! The rose looks great next to her other snow globe rose I got her.
Many thanks over and over again! " - galstyanm89 Jan 9/2015 "Received rose and it is perfect, perfect, perfect! The pink lights will go nicely with the wedding colors. Thank you very much for exchanging the rose for pink lights. " - lklevene Dec 29/2014 "I gave my Fiancee the Rose for Christmas.
She adores it and was so happy. Most of her family and mine said its one of the most romantic things they have seen. Thanks again for making such a nice product! " - scourn1 Dec 4/2014 "I received the rose today and I have to say it is absolutely stunning!
It is like someone took the rose right out of the movie , boxed it up, and sent it to me! " - 603beckysimpson14 Nov 20/2014 (Custom Piece) "I received the rose the other day and was simply stunned by how amazing it looks especially with the floating affect.
I was wanting to wait til Christmas to give to my wife but I just couldn't wait. It's so beautiful, elegant and honestly magical, I couldn't resist and gave it to her. Wow was she blown away she absolutely loves it.
I wanted to personally message you and say thank you very much. " - rynjoseph86 Nov 19/2014 "I got it and I'm stunned at how amazing it looks and how much my Fiancee will love it for Christmas. " - scourn1 Nov 17/2014 "I thought I'd message you personally. The rose I ordered arrived in amazing condition and packaged so well. My girlfriend is going to love it when I give it to her on her birthday in 1 weeks time.
I couldn't resist giving it to her early and she cried with happiness. Thanks again" - rafsr71nathansmith August 12/2014 "Great quality, Absolutely blew her away, she cried... " - dustinswartzkrautheim July 31/2014 "The gift was amazing and she loves it.
It was better than I expected thank you very much for helping me make my girlfriends day. " - scion3075 June 26/2014 "Very cool! Thank you" - chris69susan77615 April 25/2014 "I got the piece yesterday. I showed my daughter and her face lit up when I turn the rose on. " - bmsohl April 17/2014 "Hello I just wanted to let you know I received the rose and it is awesome.
She is definitely going to love it. Also I wasn't sure exactly how the certificate you include would turn out to be but it is also perfect. The certificate is a really cool idea and completes the package. I just wanted to thank you again and I hope you continue making these for people because they are super awesome. Thanks Chase" -elastible Mar 5/2014 "I got it.
Got huge points for it. Thank you so much for your help. " - newsensations Feb 26/2014 "we absolutely love it.. Quick to post as well.
I wish you all the best with everything.. " - gogirlpower101 Feb 9/2014 "My wife loved it, thank you. Thank you again; it was a wonderful Christmas present for her! I appreciate dealing with someone who is polite, honest, and professional! " - pccoloradoinc Feb 6/2014 "Just wanted to thank you for the rose, I can't tell you how awesome it is. I can't wait to see my girls face when she sees it!
Johnny7483 Feb 1/2014 This was excellent : my girlfriend absolutely loves it. " - tyco969 Jan 16/2014 "It was amazing, thank you so much for a very detailed and beautiful piece of work. The birthday girl has it on display, and is very proud of it. Thank you once again" - jayslade87 Dec 25/2013 "It's awesome she loves it!
Thank You" - 510smurphy664 Dec 13/2013 "This was beautiful I gave it to my sister and she loved it.. I love the certificate and what an awesome idea you had making that I love it thank u so much! " -ash5318 Dec 11/2013 "My girlfriend had to sit down when she saw this in the room and collect herself so she didn't cry. This was easily worth every penny, thank you so much for dealing with me. Your roses were the best I could find anywhere but seeing it in person was so much better.
We laid down and just looked at for probably an hour. Thank you again, so much! " - greglokey Dec 10/2013 "I was blown away when I saw it! My wife was moved to tears when I gave it to her.
You did a wonderful job in making it and I want to say thank you very much. Hands down the best gift I have ever given her. " - bigdog72rkm Dec 5/2013 "The rose came in! I can not get over the quality of you're craftsmanship!
It is far superior then any similar products I have seen on the Internet. Thank you again, I can't wait to give it to my wife tonight! Nick - naranzullo Also check out our feedback section. Artisan Statement of Craftsmanship The Beasts Enchanted Rose is a custom, artisan product, professionally made from other quality hand made products and as such is not a "Perfect" or "Flawless" mass produced piece. The Glass dome is hand blown and may have imperfections and irregularities created during the shaping process under high heat. The real wood base may vary in color, grain pattern and texture. The Rose at the center of the piece is specially created and positioned with its petals randomly placed at its base in no particular pattern, style or quantity.
All these are the natural results of the imagination and shaping of materials through the artist hands. They are what creates the timeless character of each piece, which throughout history in all artisan endeavors have made the most desirable, valuable and collectible of items. We are the Original Inventor, Crafter and Photographer of this item.
If you have any questions you're welcome to message me and I'll get right back to you. The item "BEAUTY AND THE BEAST ROSE ENCHANTED DISNEY GIFT BIRTHDAY WEDDING ANNIVERSARY" is in sale since Friday, June 6, 2014. This item is in the category "Collectibles\Disneyana\Contemporary (1968-Now)\Figurines\Beauty & The Beast". The seller is "41minda" and is located in Medford, New York.
This item can be shipped worldwide.
Power: 2-Size 2032 Flat Battery Included
Product: Enchanted Rose
Theme: Beauty & The Beast
Featured Refinements: Beauty & The Beast Rose
Production Method: Hand Made
Country/Region of Manufacture: United States
Flower Material, Color & Type: Poly Silk Pink Rose
Holiday: Halloween, Christmas, Valentines, Eatser, Mothers Day
Occasion: Birthday, Engagement, Wedding, Aniversary, Graduation
Base Material: Solid Wood
Dome Material: Hand Blown Glass
Brand: Hands Full of Crafts
Hight: 14" inches / 35.56 centimeters
Width: 10" inches / 25.4 centimeters
Lighting: LED

---